10 Times Solange's Fashion Choices Slayed Even Her Sister
It was her day! Solange blew everyone out of the water in a fierce white jumpsuit at her 2014 wedding. The cape, the hair, the lip color — it was EVERYTHING.
2. Solange slays at her sister's premiere for Beyonce: Life Is But A Dream in NYC at Ziegfeld Theater.
3. Solange shut it down at the 2014  CFDAs. just look at her pink lips!!!
4. Everything is right with Solange's look for the 2014 MTV Music Awards
5. This a pretty bold look to pull off. ***Flawless.
6. Festival look! Solange rocked the 2013 Glastonbury Music Festival with this iconic look.
7. She might not have been nominated for anything, but Solange definitely stole the spotlight in this white gown at the Vanity Fair 2015 Oscar Party.. 
8. Looking good! Solange slays in all red at the Oscars' 2015 red carpet
9. So Chic!
10.  Goddess in Gold
 Slay On Solange!!!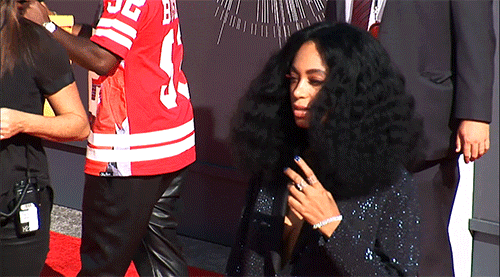 Written by Damilola Okejide