1.Let's start with the basics — when you run out of any make-up and you would rather just call out of work than to show this face with a missing step…
2. Because people may not notice one step, but ohhh they notice when there's no steps. "Are you okay?" "You look tired…" "Rough night, eh?" are just some of the lovely things you hear when you decide to give your face a rest from makeup. And then you tell yourself never again will you do this.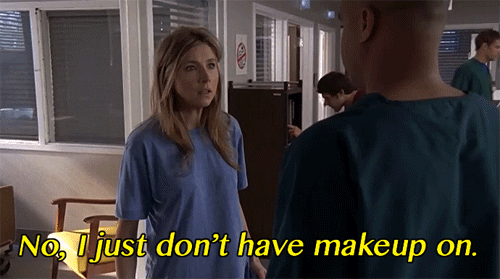 3. How about when you actually are sick, and you're complaining like crazy, but you have nothing to show because your face be lookin' fab. Like no doctor, it's my tinted moisturizer and my highlighter that are tricking you — I'm really sick.
4. When a false eyelash comes off during your night out that was supposed to be epic, and now every selfie has something black thing protruding out of your eyeball. SMH
5. After your bad day all you want to do is cry. But you hold those tears in until you get home, or at least somewhere where there are tissues, makeup wipes, q-tips, and your makeup to reapply immediately after your face washes away.
6. Your makeup was on point last night…and then you decided to crash without taking it off. That next morning waking up at a friends house, or really anywhere, always has you looking like a hot mess.
7. That gross film of makeup you get when your on your phone too long. Maybe that's why we text..?
8. White furniture, white pants, white blankets, all is a problem. Hugging someone never seemed so scary- especially when they're wearing a white shirt. Check that shoulder… *Please don't transfer, please don't transfer*
Damilola Okejide