By Damilola Faustino
The Backstreet Boys, comprised of Nick Carter, Kevin Richardson, AJ McLean, Howie D and Brian Littrell, are back again with a new single, 'Don't Go Breaking My Heart'. 
The boy band made the announcement in a series of tweets over the past couple of days. It started with the word "Ready" and was followed up with a series of tweets that said "set," and "don't go."
The group later took to social media to announce that all the teasing was counting down to the announcement of their new single Don't Go Breaking My Heart.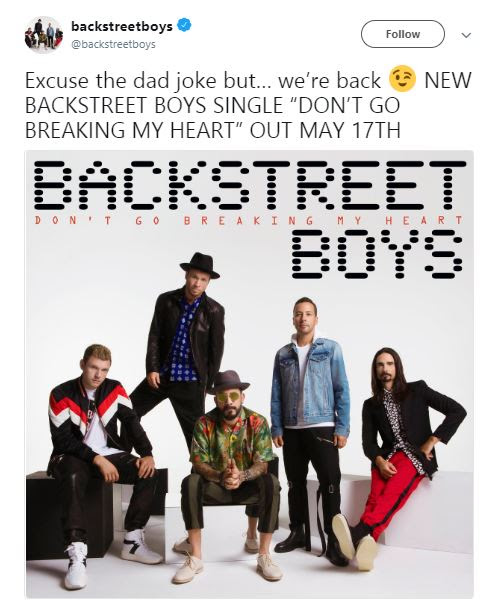 They wrote: Excuse the dad joke but… we're back 
 NEW BACKSTREET BOYS SINGLE "DON'T GO BREAKING MY HEART" OUT MAY 17TH
The Backstreet Boys' new single is the group's first new music since their 2013 album, In a World Like This, which reached Number 16 on the Official Albums Chart. That album saw the group team up with their old collaborators Max Martin and Kristian Lundin, both of whom helped the group achieve a string of hits in the 90s, including their 1999 Number 1 single I Want It That Way.
Read also: Drake Announces Tour With Migos
Comments are visible after approval