By Damilola Faustino
Demi Lovato has postponed yet another show on her UK tour due to swollen vocal chords.
The US singer was due to perform at the O2 in London, but pulled the date at the last minute at the weekend- telling fans that she was "very, very sick". The show has now been pushed back to June 25 and she's also pulled her show in Birmingham, pushing it back to Friday, June 29.
She said: "I write this through tears of frustration and sadness that I have to postpone my concert in London at the O2 tonight due to being very, very sick and with swollen vocal chords that were examined by an ENT (Dr.).
"If I go on tonight and injure my vocal chords, I could potentially have to cancel the rest of my tour. I'm so so sorry to disappoint any of my fans in London that have traveled hours to be here by plane or car, and to all of the fans that got these tickets for their birthday, holiday or any other special occasion."
She continued: "Just know I feel your frustration and I wouldn't do this unless I absolutely had to. For everyone who bought a ticket to tonight's show, I will see you on the rescheduled date on June 25 after Madrid and Rock In Rio. Thank you for understanding. I love you."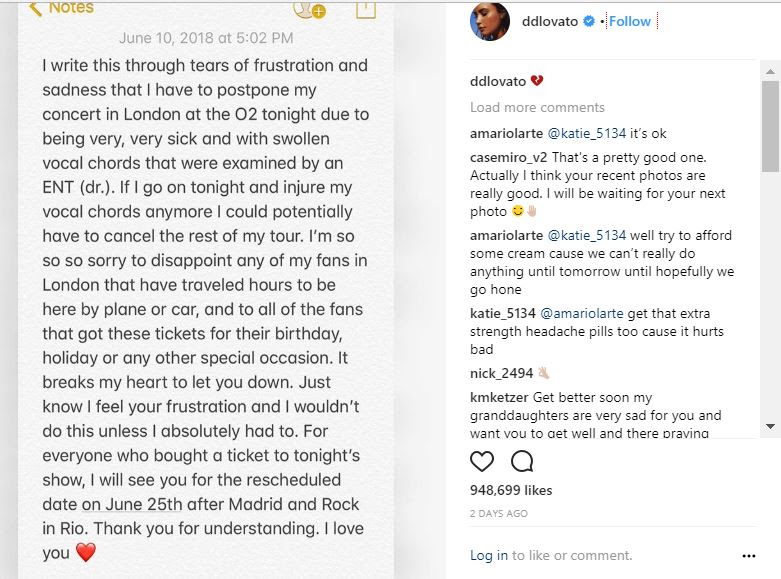 She added: "I'm literally gutted that I have to postpone this next show in Birmingham. I've never had to miss shows due to my vocal [cords] or being sick in my LIFE."
This comes after Lovato was forced to apologise after she faced backlash for revealing a prank that she pulled on her bodyguard.
Read also: SZA May Have Permanent Vocal Cord Damage
Comments are visible after approval