By WhoIsTunde & Damilola Faustino
Meek Mill has been released from prison after being incarcerated since November 2017 for violating his probation. The Supreme Court has finally granted Meek Mill bail.
Michael Rubin, Philadelphia 76ers co-owner posted a picture on Instagram celebrating Meek's release from prison. "@meekmill is FREE!!! Just left visiting Meek with @kevinhart4real and I'm on the way back to pick him up as we speak! #MeekisFree #GoSixers," he wrote.
In November 2017, Meek was sentenced to up to four years in prison for violating the terms of his probation on an old gun and drug case.
The ruling, which was criticized as unjust by many, sparked a new debate about racial discrimination within the criminal justice system, especially with Judge Brinkley, who sentenced the rapper.
Judge Brinkley denied the rapper bail despite both the Philadelphia District Attorney and Governor Tom Wolf publicly supporting his release.
The Philadelphia rapper – real name Robert Williams – took to Twitter to thank his fans and supporters.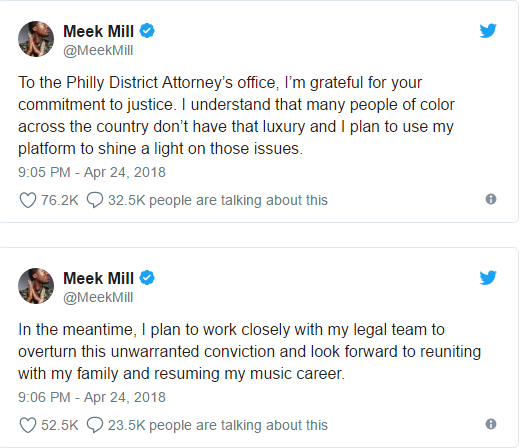 Meek's lawyer, Joe Tacopina said: "Meek was unjustly convicted and should not have spent a single day in jail. Meek is excited to be reunited with his family, and we, along with Meek, intend to continue to shine the light on a justice system in need of reform to prevent any other citizen from being put through what Meek has endured."
Read also: Meek Mill's Airport Assault Case Dropped
Comments are visible after approval