By Damilola Faustino
Post Malone has added two more tattoos to his wide array of body ink: he's tattooed the words "Always Tired" under his eyes.
These aren't the first face tattoos the rapper has gotten. "Always Tired" joins the small Playboy logo under his right eye, the smiley face tattoo under his right eye, the "Stay Away" tattoo above his right eyebrow, and the barbed wire tattoo on his forehead.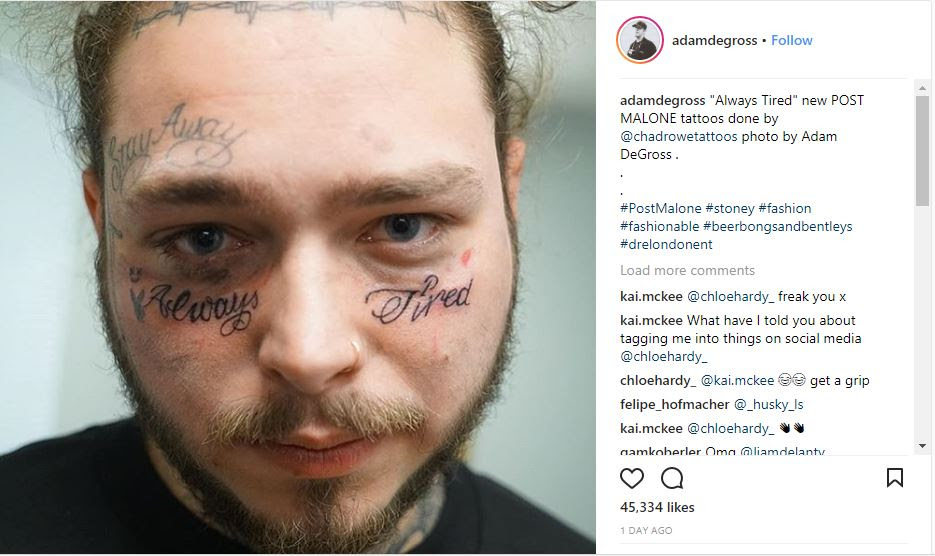 Malone also has a barbed wire tattoo on his knuckles, portraits of late artists Elvis, Dimebag Darrell, Kurt Cobain, and John Lennon on his knuckles, a bear tattoo on his right hand, a John F. Kennedy tattoo on his left hand, and many, many more.
He also has a tattoo tribute to Lil Peep of the late rapper's face with the word "Crybaby" on it, which he got after Peep died.
Read also: Nicki Minaj & Post Malone To Headline Jay-Z's One Music Fest
Comments are visible after approval