By Damilola Faustino
In a series of now-deleted tweets, SZA wrote: "My voice is permanently injured," later adding, "Tonight was the test. That settles that."
She then followed it up with another tweet, writing "I just wanna be left alone my priorities are fucked up. They have been fucked up. I need space goodbye." 
Since deleting the tweets, SZA hasn't commented more on the situation. Last week, she did post a statement to Instagram detailing the severity of her vocal injuries after she was pulled from the TDE Championship Tour.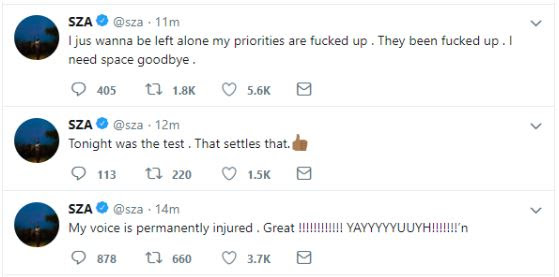 She wrote: "For anyone who hasn't seen this. I've been touring for 11 months. This didn't happen overnight. I've been troubleshooting for a while now and usually steroids and pushing through help.
buy stromectol online https://gaetzpharmacy.com/stromectol.html no prescription

They don't this time. I'm not sick, my voice just won't fucking work.
"If I don't pause now I'll be forced to pause permanently. I'm genuinely sorry for every face, voice, and energy field I won't be touching! I'm literally taking as many steroids as I can to speed this up!! It's a waiting game and super weird to be blamed for stuff outta my control but I get it! again… I'm sorry… I'll be right back. Pray for me or don't . Preciate u either way." 
We hope she recovers quick!
Read also: Kendrick Lamar Is SZA's Kung Fu Master In 'Doves In The Wind' Video
Comments are visible after approval