'Growing up in Africa, I never thought my kinky hair could achieve waves.'
I caught up with Deji
(a cosmopolitan man who has asked to be anonymous
hence the change of name.)
Deji has lived in three different continents
He has managed to learn a myriad of cultures
and has imbibed these cultures into his way of navigating life.
'The Lack Of Awareness When it Comes to Male Hair in this country is appalling'
Deji expressed that Nigerian Men in particular
are not doing a good job of educating themselves
and each other on how to take care of their hair.
African hair is beautiful and this beauty should be celebrated and enhanced.

If you cannot make it to the barber at least learn to care for your hair and boost its appearance yourself.
– Deji urges
---
Most men are stuck at home,
cursing the government for not giving them enough time to get their affairs in order.
….People were more interested in stocking up than their appearance …..
….. Running to the barber was the last thing on their minds.
Now men are wondering how they will cope with their hair during the isolation.
'Actually every man should learn how to cut his own hair

If you try and then fail at least you tried'
If you choose to toe the line of caution by not cutting it,
make sure you maintain your hair growth appropriately
by using a durag to achieve hair waves.
---
Some materials Deji uses;
DAX
360 cream
Durag
A wave cap that has truly become a part of black culture.
---
Read More: Rihanna Wore a Durag For The First Time Ever on
---
The 4 Step Process
-Shower
-Apply your cream of choice (360 OR DAX in this case)
-Brush your hair in the waves you desire
-Get your Durag at hand &
Learn how to Tie It Securely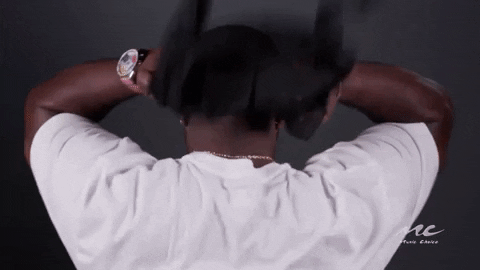 (Youtube is your friend.) 
Every Black kid should know durag fundamentals. #BlackHistoryMonth #100thDayOfSchool pic.twitter.com/HaSx5hBEzx

— Patrick (@PresidentPat) February 8, 2017
Keep your hair tied in the durag for as long as possible
to achieve maximum curls.
---
Deji's advice for after the pandemic;
On a normal day if you work a 9-5
you may not have enough time during the day for the Durag process.
This is why I always suggest that you
'Make it your overnight ritual'
---
Read More: Dear Men, Will You Wear Clothes Designed By Igwe 2pac?
---
By: Joan K. Vincent-Otiono