Whew! It's been an eventful week and now it's time to take your well-deserved rest! And catch up on events in Lagos. You should especially take advantage of today, Friday the 13th for great shows and concerts. Here goes!
Gear up for Stammer and Benz men: The Extended Play Concert with Jaydon Jec and Marq Stunnah at New Planet Resorts LTD133/135 Aka Road, Ajangbadi, Okokomaiko, Ojo, Lagos on Saturday, Jul 21 2018 at 03:00 pm.
Eajo couture is set to officially launch at the Lagos Continental Hotel, Kofo Abayomi street, Victoria Island , Lagos on Sat Jul 14 2018 at 11:00 am to 06:00 pm.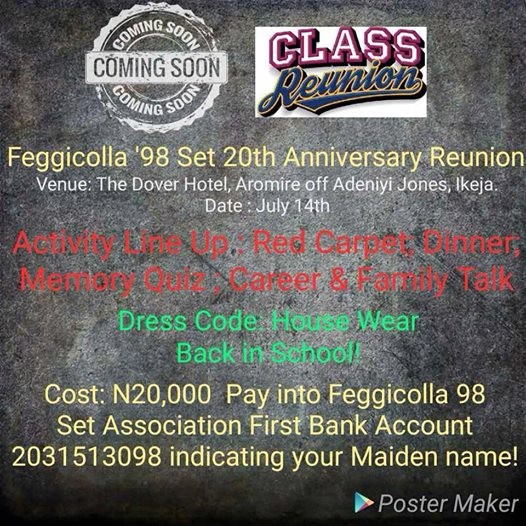 Feggicola '98 reunion party is set to hold at The Dover Hotel, 14, Aromire Street, Off Allen Avenue, Ikeja, Lagos on Sat Jul 14 2018 at 10:00 am.
Join the Talent Hunt Show for Music Dance, Comedy, Public speaking and instrumentation categories in Abuja at  Fri Jul 20 2018 at 04:00 pm to Sun Jul 22 2018 at 02:00 pm.
Join the Total Praise Concert of the Wellsprings Crew at Ojo, Lagos on Fri Jul 13 2018 at 07:00 pm to Sat Jul 14 2018 at 05:00 am.
There's a job interview training and CV masterclass at Smart Assist Hub, 2B, obanikoro street, Obanikoro Estate, Lagos mainland on Friday, 20 July 2018 from 12 noon to 3pm.
Skillful Hands Entrepreneurship Series continues at The Boat House. 21 Ogunnusi road, Ogba-Ikeja, Lagos on Sat Jul 14 2018 at 09:00 am to 05:00 pm.
The Leadership Accelerator for Exceptional High School Seniors is set to hold at Global International College,, 31A Admiralty Way, Lekki Phase 1, Lagos on Sat Jul 14 2018 at 08:30 am to 04:00 pm.
Read also: 13 Things You Should Know About Friday the 13th
Comments are visible after approval